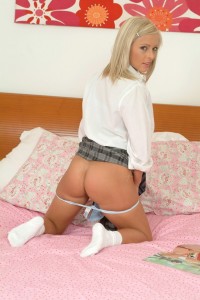 You know being a college coed makes me the perfect girl for the perfect princess fantasy. I am 20 and totally into getting my own way. You could just be a really nice caller and tell me how pretty I am and how sexy I am but what I really want to do is put on a big strap on and fuck your ass with it OR if thats a little much for you I would love to tease and deny you all night long. Blue is my favorite color and I love to give you boys blue balls.

Do you enjoy being tease and toyed with till your cock is so big its about to explode? Right on! Just so you know if you are really hardcore into orgasm denial that I will most likely only let you cum if you are going to eat it. Doesnt that sound hot? Being made to eat your own cum for me?
I get such a hoot out of that. Hearing you whimper about wanting to cum and then the begging and then the whining. Yes, I love the whining!! Makes me so darn hot! So if you want to play this kind of fetish game with a cutie who has a wicked imagination then give me a call!
Call 1 888 758 8411 and ask for the Kitty for the best live phone sex experience ever!